Speaking of which, my daughter is 8 weeks old, and learned a new game/magic trick yesterday (which you may already have seen on Facebook):
It's trite to say that time really flies with a baby, but it's true.
Mothering is like some separate sense, an awareness of someone who is separate from you, but still a part of you, because they once were a part of you.
Mothering is a great way to learn to look outside of yourself, beyond your own wants and needs, because you have someone that loves you and desperately needs you, so even though it is hard, you want to do everything you can for them. Because it's so easy to love the little person who gazes up into your eyes.
Mothering means forgetting what it means to have the amount of sleep you want, when you want it.
And I'm sure motherhood is many other profound, whimsical, and absurd things, but that's all I can think of right now.
It seems like mostly I've been around Facebook these days, what with being a new mother and all.


Things I did accomplish:
-Unintentionally starting an intense political discussion on Facebook by sharing a link.
-Warming up a can of chicken noodle soup.
-Talking to a few people on the phone.
-Getting dressed.
-Getting my hair cut at the place next door to my apartment.
-Flipping through my new Crochet Today magazine that came in the mail today.

So not a complete failure of a day. Here's hoping I feel good enough tomorrow to at least read or watch a movie....
Having a cold and being 8 1/2 months pregnant is a bad combination. I feel really lucky, as this is the first time I've been sick while pregnant. Yesterday was okay. But today this cold has totally wiped me out.... I've passed most of my time with 2 naps and some more laying on the couch. What's the point of feeling sick if you don't even feel like reading or watching a movie?
The problem: motivation, dedication, avoiding procrastination, sitting down and forcing myself to write.
I admit, I'm a little ashamed of myself. I woke up at 7:30, and then took at nap from 8:30-10:30. I was a little tired, yes, but I took a nap more because I was not motivated to do anything else. Sometimes I have a hard time finding motivation for the things that I love doing, like writing. Especially when I'm home by myself, without any deadlines for anything, writing or otherwise.
One of my tasks is actually subbing an essay I've written. It's daunting to me, simply because I've never submitted any essays for publication. It's a 2000 word essay, general interest subject matter... any tips anyone has are welcome.
Other writing projects for the week: progress on a few personal essays I'm working on, blog posts for my website and my video blog, personal journal writing, critiquing an essay for my sister, and a letter of recommendation for a former student.
After forcing myself awake this morning I did complete one of my writing tasks, an
Internet Alphabet Book
for my website, complete with my own illustrations: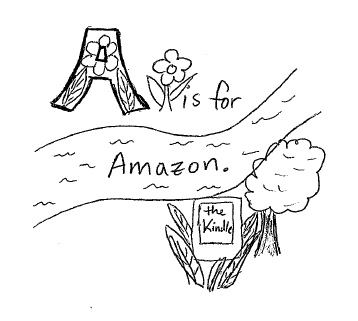 (A sample of my fine art skills.)
And now to get out of my pajamas and into greater motivation...
What are your writing projects for the week? And do you have secret access to the fount of motivation?
As I wait (impatiently) for the stork to rap on my door with his cartoon beak, my sweet baby bundle in tow, I've filled my week with writing projects, projects that would be great to complete, but ones that aren't time-sensitive should my daughter decide to arrive early.
final VCFA residency
for an MFA in writing for children and young adults, my mom, Sarah Blake Johnson, gave a presentation on character roles. Unluckily I wasn't able to attend the official lecture, but I did get to see one of her practice run-throughs. My mom wasn't talking about archetypal roles (for example, a Christ figure) or stereotypical roles (for example, a punk or a villain). Instead, she was talking about the roles characters play that define themselves, and help determine their actions and thus the plot (for example, in Margaret Bechard's
Hanging Onto Max
, the main character has two main roles for the plot, that of student and father, in addition to other roles he has, like boyfriend).
In my own life I'm at a point where my roles are changing. Truth be told, I've been at that point for about a year, as I've juggled which roles are the primary determinants in the plot of my life, and which roles are secondary and even tertiary. Graduate student. Radio producer. Scholar. Teacher. Writer. Wife. To name a few. And soon--within four weeks--I will have a new, super important, super exciting role: mother.
I've decided to embrace the shifting of roles. It feels right. As part of that, I'm shifting how the role of "writer" impacts my life. Post NaNoWriMo back in November, I haven't been writing or revising long-form fiction (novels). I love doing it, but it hasn't been fulfilling my storytelling and writing needs or desires. And so, for the foreseeable future, I'm not going to write or revise long-form fiction.
I am still writing almost every day. The essay form and other creative nonfiction genres have reached out their tendrils and grasped me. I go willingly into their arms. I've polished one essay which I'm looking into submitting, and I'm drafting another. I've dipped back into poetry (which I haven't done since high school), with a sonnet titled
My Grandmother's Crossing
. I'm developing the concept for my website (still a definite WIP, thus, no link). And I'm playing with another storytelling form I love, film, by posting an original 5-30 second video clip every single day during 2011 on
Days of Film
.
Yesterday's video: a tiger eating garbage in the snow.
I am a writer, I am a storyteller. But the role of writer is currently changing in my life. As our roles change, so do our daily actions and choices. And as my role as a writer changes, I've been trying to figure out where and how Livejournal fits into my life, as manifest by the high infrequency of my posts. And honestly, I'm still not sure. But I think it fits, as long as my expectations for it are different than they were before. So I'm tentatively back to posting on Livejournal, as long as doing so fits with my roles instead of competing with them.
This week, as part of her
Current Mood:

contemplative
So one of my goals for NaNoWriMo is to restrict the researcher in me. And so this month, during my writing time, I am almost entirely limiting myself to quick trips to Wikipedia for research. If I've hit my word count for the day then sure, I can go read something else that might be useful. But until I've done so, that's strictly forbidden. Now don't get me wrong--I think in-depth research can be a great thing for writing. Some of my favorite novels are the result of years of research (for example, Life of Pi). But in-depth research is a bad thing if you're doing NaNoWriMo, or if you are like me and let research get in the way of writing.
By limiting myself to mostly Wikipedia, research becomes a way of fact checking, searching for minor details. I suppose that limiting myself to brief Wikipedia searches forces me, at least in the first draft, to "What write I know." Anything that takes more than that will probably have to show up in the revision stage, or may not be important enough to show up at all.
The idea of "Write What You Know" has always seemed a little scary to me--what if I don't know enough? What if my ideas, by themselves, aren't good enough?
At the same time, "Write What You Know" is comforting--the premise that the stories, the ideas, the thoughts that fascinate me are worth sharing and can compel others as well.
Do you use Wikipedia as a research tool? Do you believe in writing what you know?
So far, in 2.5 hours this morning, I wrote 2,431 words of my novel. And these are the websites I've visited:
On Wikipedia
International School of Curitiba
Curitiba
Magical realism
Gabriel Garcia Marquez
Novella
Cattle
Cold case (criminology)
On Familypedia
List of most common surnames -- Brazil
Other
International School of Curitiba website
Dictionary.com
One of the challenges I face when writing is I tend to over think things in the initial drafting stage. This goes for research as well.
And I hope that you'll have a Happy November!
My musings on November:
I've always liked November. It's often still Fall--cool, crisp mornings, somewhat warmer in the afternoon. I like that I always get to spend time with family in November, and that Thanksgiving brings people together and helps us to reflect.
This November, I like that I'm feeling healthy and happy, that I have a baby inside me and that I haven't had any problems with my pregnancy. I like that I've got enough energy to do most the things I want to do, as long as I focus on the things that matter most to me. I think I should have enough energy to stay active and do lots of fun things.
I am super excited about NaNoWriMo. I do well with goals and deadlines, with the pressure that it gives to me. It should be a fabulous writing romp if nothing else. An exploration into the land of story that I haven't done quite like this before.
As I work on writing, my husband will be working on PhD applications. It's kind of scary and exciting to think that I could be a half a dozen different places in a year... having new adventures, thoughts, and experiences.
As
robinellen
has posted, the fall and the winter as great times to crochet, and I like the crochet projects I'm working on: Christmas ornaments, an afghan for my baby, and some Christmas presents for my family. I like doing things with my hands. There's something beautiful about creating something physical and tangible.
November's not a perfect month. I'm sure I'll get stressed. I'm sure I'll be tired. I'm sure something unexpected and hard will come up, because things always do. But my car battery won't die--because that happened last week. And really, life is too good to worry about problems beforehand.
I'm full-heartedly planning on having a happy November, and I hope you have one too!
It's still Halloween, and I do hope that you've had a Happy Halloween with lots of cute trick or treaters.


On another note, it's amazing to think about how much I wrap up my judgments about myself as a person to how well (or not how well) I'm succeeding at the different roles I play...things like writer, writing teacher, wife. I screw up something and then feel terrible about myself as a person rather than saying, okay, didn't wear that hat as well today. That's how I felt about myself last night as a wife, or today as a teacher. When I do well at something -- for example, a really glowing critique I received today on an essay from someone who in the past has always been able to helpfully find gigantic things to change--then it's good that I feel good about myself. My roles are part of who am I, but they are not me as a whole, and I need to keep me as a whole healthy and happy despite ups and downs I have in my different roles.

I like my new Harry Potter themed userpic. It makes me happy and excited for the movie. :-)
Light, delicious little snowflakes. Utah skiers are certainly thrilled--there's been a ton in the mountains. And as long as I keep myself warm I don't mind winter and I rather like the snow. I like autumn better, but I'll take snow as long as it provides minimal inconvenience and cold for me. And I have super cool snowflake earrings that I got last year for Christmas that I'm excited to wear again.


2. I've been feeling my baby moving around for weeks now... but for the first time she's been kicking strong enough for someone else to feel her. My husband felt her yesterday--it was quite exciting for both of us. As he said, "that is just beautiful!"

3. NaNo update: I've decided what novel I'm going to work on for NaNoWriMo. It's one that's been bouncing around my head for half a year that I'm really excited to write. It's something that requires no research... the draft I'm currently in is somewhat laborious in that regard, and seeing as I'm already a large chunk in, it'll be easier to write 50,000 words on something fresh. It will also be a nice month-long break from that manuscript.

4. I went to the BYU Bookstore yesterday, and found myself extremely lost--they've moved everything around, especially the books that I am most likely to browse. The "Children's section" has been moved downstairs, which does give it more space, especially for picture books. But now it's separated from the rest of the books... everything else downstairs is school and art supplies. Plus they decided to put the BYU kids clothes down next to the "Children's section" of books. The YA sci-fi/fantasy was moved next to the main Sci Fi/Fantasy section, which makes some sense. Finally, the YA section was kind of shoved in a back section on the main floor. Before all the children's and YA books had been a long the main path through the bookstore, but now they're not. If people are consciously going to the sections, they'll make it there... but if not, they're sadly less visible. What's also intriguing to me is how arbitrary the divisions seem between these three sections...there's a number of books, for example, that they put in the main YA section that could have easily been put into the YA fantasy/sci-fi... for example, A Curse Dark as Gold, A Great and Terrible Beauty, and others. What's also interesting is that they've had to make a clear break between what is YA, and what is for children. For example, Scott Westerfeld is officially YA, even though Leviathon to me is a little younger than the rest of his books. Rick Riordan is officially Children's section. Some books it's really clear whether it would be YA or go downstairs... a lot of others, to me, are transitional. It's seems to me the division is actually more upper YA gets in the YA section, and everything else is down in children... unless, of course, an author writes across. What's also interesting is they've put the "Beehive Awards" section downstairs--and the Beehive Awards seems to highlight as much YA as middlegrade. I do like that there is more space for children's/YA books, but it will take me some getting used to.

5. As of a few days ago, I am officially obsessed with kinetic typography, and really want to play with it myself. Search Kinetic Typography on youtube and you'll find plenty of examples. Here's one I really enjoyed, from The Office:



Have a nice weekend!
1. Every six months or so, it seems I need to readjust myself to my own life, to re-learn how to cope, to think about all the roles I play, how I spend my time, and what it takes for me to be happy. I've spent less time online as a result, and been have been reminded that writing, while important to me, is just one aspect of me. The same goes for teaching. Neither can or should take over, or I won't be happy.


Any suggestions from those who have done NaNoWriMo before? What works well, what doesn't?
I've officially decided to do NaNoWriMo this year. One of the challenges I have with writing is I'm a slow writer--particularly when it comes to first drafts. And I like revising much better than writing a first draft. So I've decided to do NaNoWriMo this year.